Press Conference & Protest Against Biden Administration's Platforming of PM Modi
Press Conference & Protest Against Biden Administration's Platforming of PM Modi
Media Contact:
Olivia Cantu
info@reclaimindiademocracy.org
Husnaa Vohra
773-357-5177
WASHINGTON, D.C. — The Coalition for Reclaiming Indian Democracy, a coalition of civil rights and interfaith organizations representing Indian-American Hindus, Muslims, Christians, Dalits and allies, will host a press conference and lead a protest to express strong opposition to the decision made by President Biden and Congressional leaders to platform Indian Prime Minister Narendra Modi for a state dinner and addressing a joint session of Congress.
The events aim to highlight concerns over Modi's troubling track record on human rights, religious freedom, democratic backsliding, and his crackdown on civil society, critics, and the press.
We invite members of the media to attend the press conference to gain deeper insights into the concerns surrounding Modi's visit and its implications. Additionally, we encourage journalists to cover the protest and capture the spirit of solidarity against human rights abuses and the erosion of democratic values.
June 21: Press Conference at the National Press Club
The press conference, titled "Beyond the Hype: Highlighting Prime Minister Modi's Authoritarianism and Human Rights Violations" will feature victims, experts, and members of civil society who will provide insights into Modi's Hindu nationalist/supremacist ideology, his anti-minority policies, and the consequences of his assault on democracy for both India and the US.
WHAT: Press conference
WHEN: Wednesday, June 21, 2023, at 10 AM
WHERE: THE NATIONAL PRESS CLUB, 529 14th St. NW, 13th Floor Washington, DC 20045
WHO: Coalition for Reclaiming Indian Democracy (reclaimindiademocracy.org)
June 22: Protest at BLM Plaza
The protest will serve as a peaceful demonstration to voice collective opposition to Modi's platforming. Participants will come together to emphasize the importance of upholding human rights, religious freedom, and democratic principles.
WHAT: Protest against President Biden's platforming of Modi and Save India from Hindu Supremacy
WHEN: June 22, 2023, from 12 PM to 5 PM
WHERE: Black Lives Matter Plaza; 16th and H Street NW, Washington, D.C
WHO: Coalition for Reclaiming Indian Democracy (reclaimindiademocracy.org)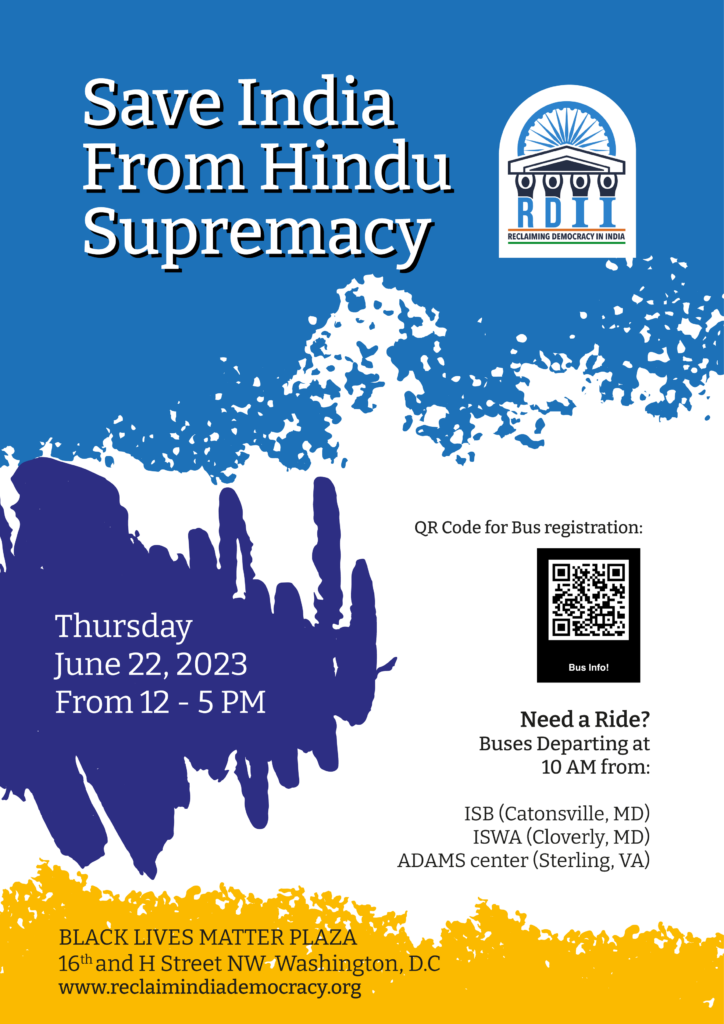 Background
Prime Minister Modi and the ruling Bharatiya Janata Party (BJP) support Hindutva or Hindu nationalism, an ideology that seeks to establish India as a Hindu majoritarian state where religious minorities, especially the 250 million Muslims and Christians, are treated as second-class citizens.
Modi's tenure has been marred by human rights violations, suppression of dissent, and persecution of religious minorities, particularly Muslims and Christians.
International organizations such as the United Nations, the US Department of State, the US Commission on International Religious Freedom, Amnesty International, Human Rights Watch, Freedom House, Reporters Without Borders, the Holocaust Memorial Museum, and Genocide Watch have all raised serious concerns about the ongoing persecution of religious minorities and the assault on democratic institutions.
The decision to provide Modi a platform during his visit raises significant concerns about endorsing leaders with questionable records on democratic values and inclusivity.
For media inquiries, interviews, or further information, please contact info@reclaimindiademocracy.org